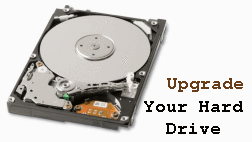 After you've bumped up the RAM in your MacBook (the first hack any MacBook owner should do) you'll probably start looking at the limited size of your hard drive. The minimal amount of options that you have in purchasing a MacBook means that you probably didn't get as much hard drive as you really wanted.
So first things first. You need to buy a hard drive that will work with your MacBook. That means a 2.5 inch SATA drive. There are a lot to choose from. I went with a
Toshiba / Hitachi 250GB 5400rpm
hard drive. Perhaps not the fastest drive ever built but very affordable and from a know resource. And under $100.
Next thing to decide is what do you want to do with the old drive. I decided I wanted to make it into a portable drive for backing up the photos I take when out on extended vacations. That meant buying a hard drive enclosure. Again, there are a lot to choose from but I chose a
USB 2.0 SATA 2.5 HDD/HD Hard Drive/Disk Enclosure/Case
that I got from e-bay. That new part cost me under $10 with free shipping. You might want to go with a Firewire enclosure that will permit faster data transfer but I liked the fact that the USB case was self powered and didn't need another power adapter.
The drive enclosure made transferring data from my old drive to my new drive a snip. I plugged the new drive into the enclosure and plugged the enclosure into the MacBook's USB port. I formatted the drive using Apple's Disk Utility (it's already on your mac) in the
Mac OS Extended Volume Hard Drive Format
. I used the wonderful
SuperDuper!
to clone the contents of my original drive onto the new replacement. SuperDuper! creates an exact bootable copy so there's nothing else you need to do.
Then it's just a matter of switching out the drives which is very easy to do. I repeat,
this is very easy to do
. Especially if you follow
ifixit.com
's excellent instructions. You will need the following tools which you can get from iFixit or Radio Shack if you don't already have them (or cheaper
elsewhere
on-line).
#00 Phillips Screwdriver
T8 Torx Screwdriver
Once the hard drive is installed in the computer, turn on the mac to make sure everything works as you want it to. Install the old drive into the new enclosure. I reformatted the old drive (which is now in the external enclosure), again using Apple's Disk utility, to clean off all the old data.
So, for $110, I got an increase in the size of my internal drive (80GB to 250GB) and a new external 80GB drive. The total time to complete this task was around 2 hours but most of that time was in backing-up the date. Actual bench time was around 25 minutes.